Well… shopping at Hugo's design will never be dull, but there is some stuff to be excited about!
First thing is the new freebies that can be found in the main store. These are little hearts which can be worn as a  full outfit *grin* or as an adition to other (Hugo) sets that you own. These hearts are available in the hugo set colors and will probably be available in other colors soon too. The sets are totally free and are the perfect Valentine's day gift! (They'll stay for sale after V'day too…) Here is a picture of the new items in the main store.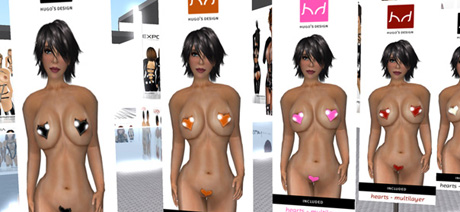 freebie hearts
And then there is other great news! As you can see in the picture, Hugo's design is going to have a brand new crisp corporate style! This style will be used in the new Vendor designs, the store itself and this blog. Professional designers have designed a new logo and are now busy working on the blog design which will soon be released too. I choose to work with others to design the new style. I did this to have new insights resulting in a fresh and funky appearence of the Hugo's design brand. Next to that I choose to update the store in a slow pace, simply because I don't have more time…
New products and updates are well on the way so be sure to check this blog from time to time!