28-04-2010
Hello faithful Hugo's fans - Deirdre here once again with a wagonful of new releases, and Bianka's awesome descriptions.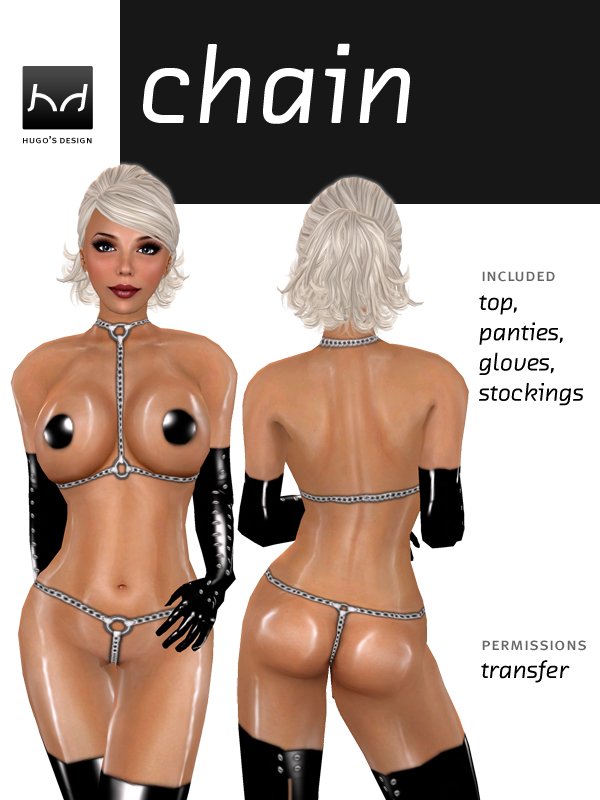 This is exactly what it says on the tin.  So revealing, it almost isn't there. Panties and a "top" made out of...well....chains.  That's all.   The Top, underscrores your bust while running up between them to a collar.  The Panties don't leave much to the imagination - a chain around the waist and one single, solitary chain runing down under, where the sun don't shine. But because Mr H never likes to leave a good idea alone, he's also included a set of black latex nipple pasties, plain stockings and a pair of gloves, covered in rivet details. Awesome on its own or the perfect accessory to any other outfit. It comes in all clothing layers too to mix n match however you like.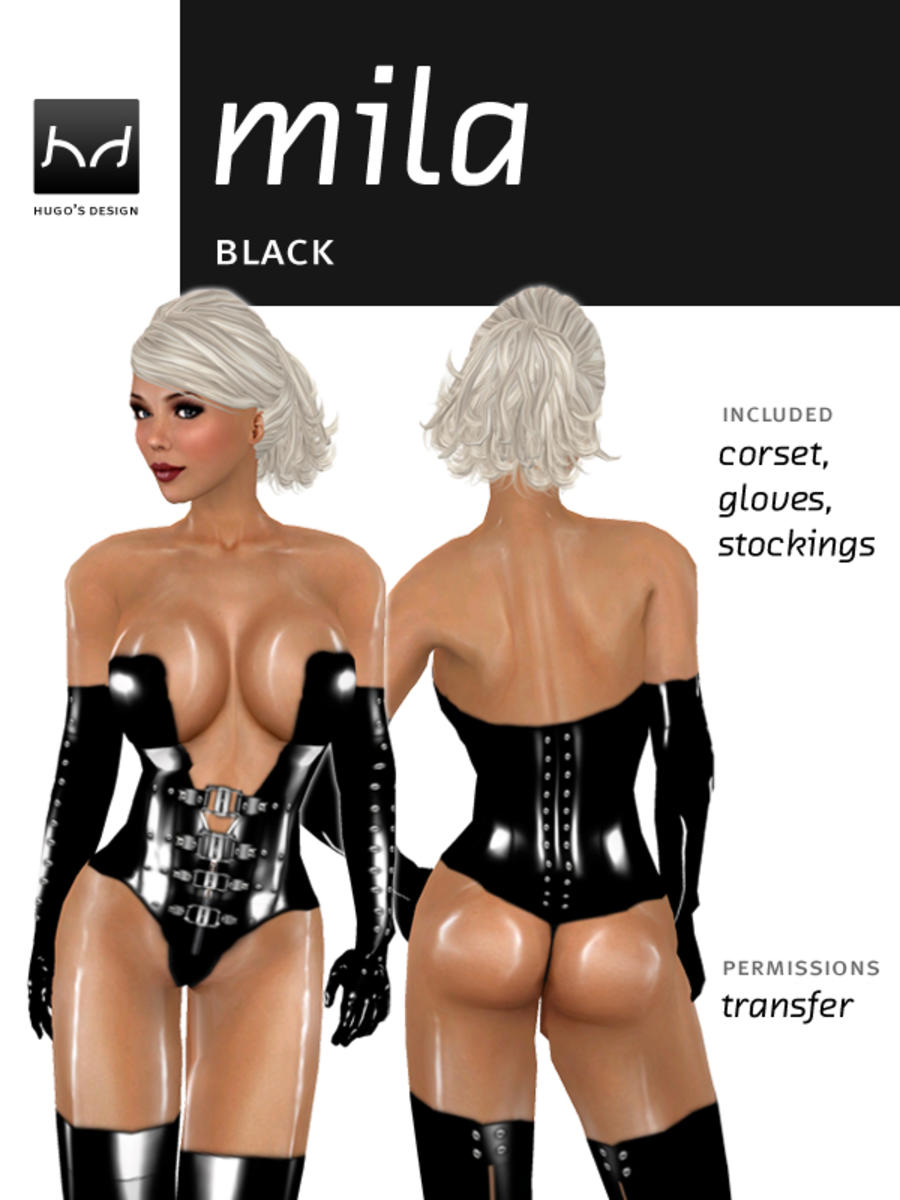 The first wholly new corset from Mr H for quite a while. Not only low-cut but REALLY wide-cut.  Almost a V-shaped opening in front, shoulderless & sleeveless it can be worn just as the buckled & strapped corset or as a complete outfit with the matching panties included. You also have the option of open or covered boobs as well as a pair of matching pasties, gloves & stockings.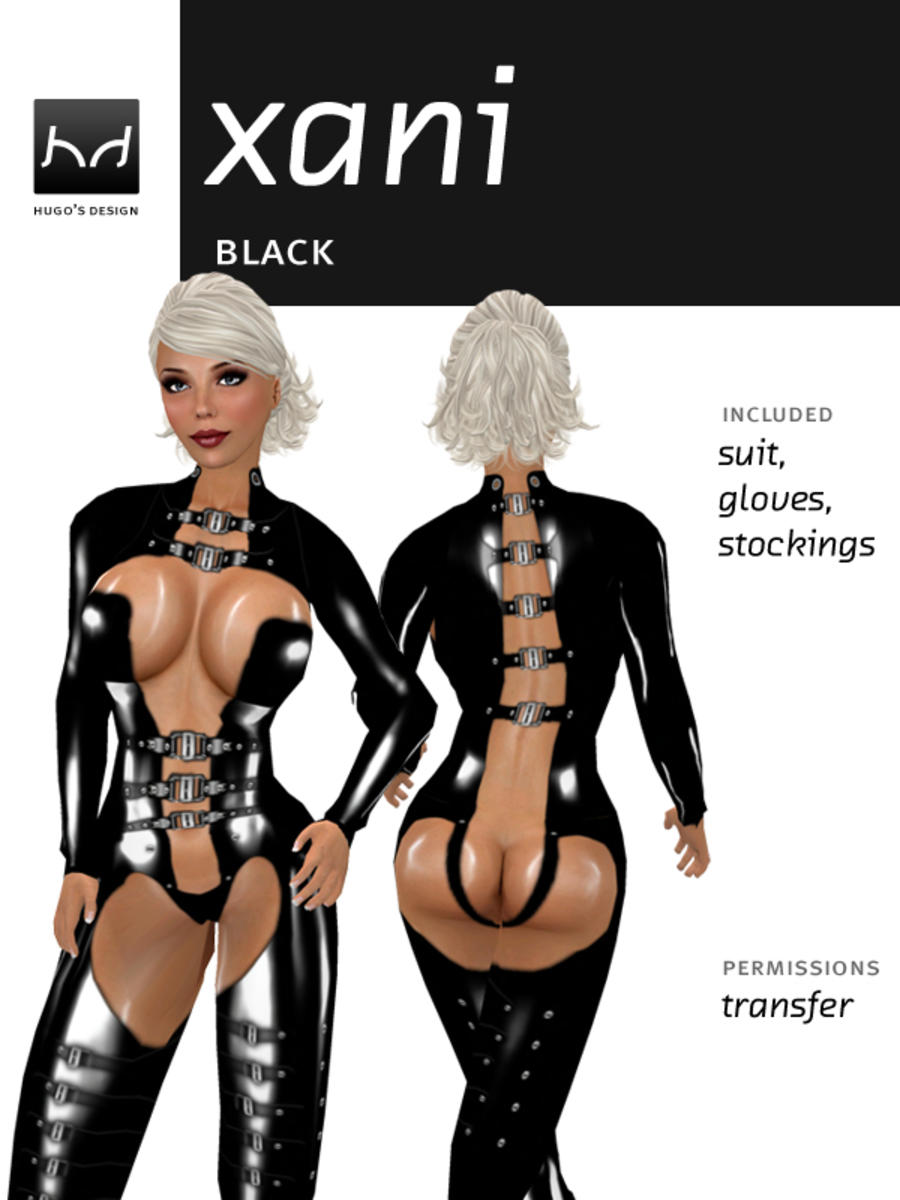 I've saved the best till last!  This one's just OSSUM!! Following in the best HD tradition of Expo, Kitana & Star (amongst many others) comes the latest serious fetish ensemble. A full body suit - held together with lots of buckled straps and rivetted studs, Xani is open in all the right places with as many options are there are parts to it.  Open or closed-fronted with a square-cut mid-section merges down into chaps-like belted bottoms.  In back, it's open  from neck to butt, which is fully on show!  You also have the choice of wearing it open or closed crotch.  Optional gloves & stockings come as standard, too. There's so much to it, I can't really do it justice.  Just look at the pic already!
The new outfits are available from: